An Extensive Divi Layouts Library
Build unique and beautiful Divi websites with premium layouts of different kinds — all in a single Divi Layouts plugin. Blog, Post, Header, Footer, Form, Testimonials and a layout library full of possibilities.
Import Stunning Divi Layouts With a Single Click
Divi Layouts Extended brings stunning Divi layouts directly to your website with a single click – no manual import is required. Preview each layout and save to the library what catches your eye. It's the fastest way to use custom and unique designs on your Divi website. Plus, all layouts are customizable and suit websites of any niche. Thus, Divi Layouts Extended is the preferred way to go custom in Divi.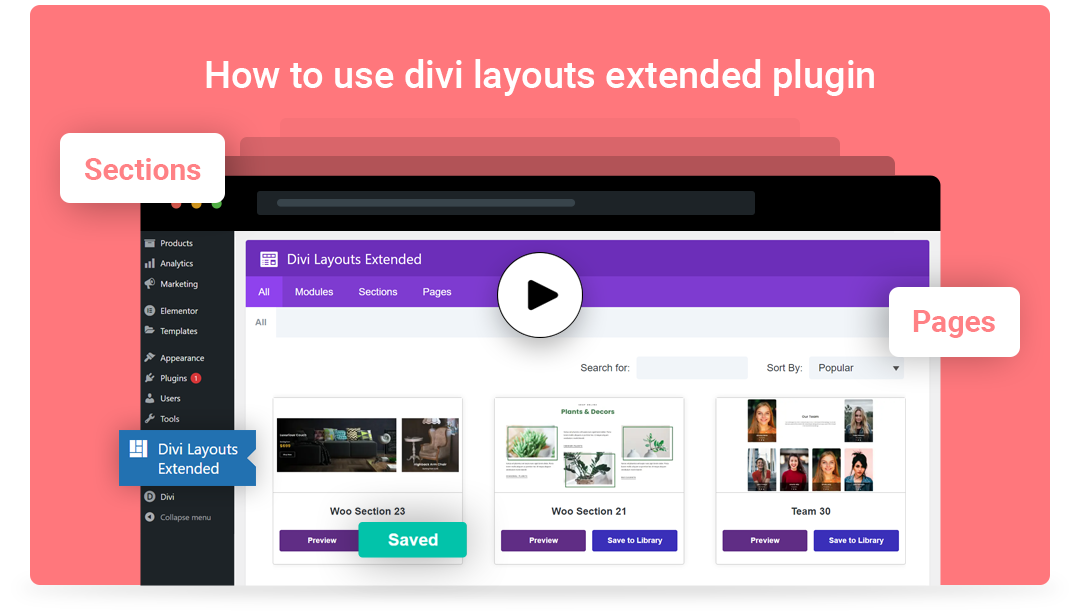 Highly Flexible Layouts for Divi Websites of All Kinds
Whether you're developing a new website or giving an existing one a new look; the layouts of Divi Layouts Extended will help you achieve higher standards. You'll build a website worth visiting a thousand times without trying too much. Have a highly readable blog, organized navigation, clear forms, engaging testimonials, and loads of best Divi layouts to build a site you can call a dream come true!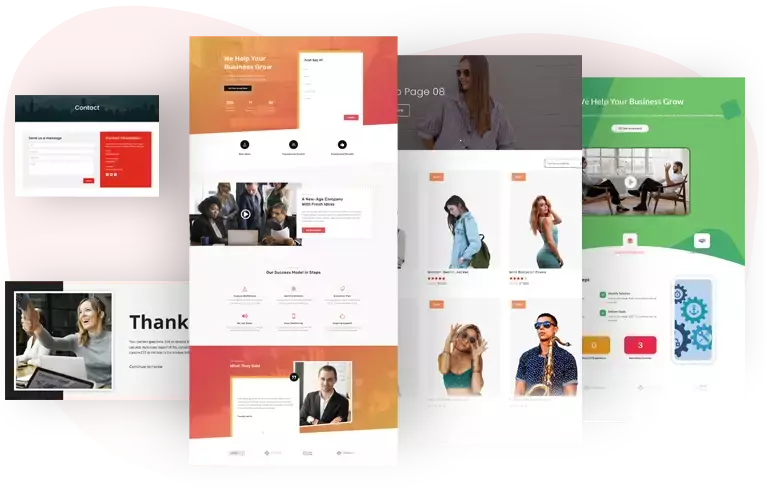 Engaging, Confusion-free, and All-around Page Layouts
Welcome users to the right page with the most blushing design using the landing page layouts. Display heartwarming messages on soothing Thank You page layouts. Use confusion-free 404-page layouts for utmost engagement. And that's not all; this layouts cloud has page layouts of different kinds to fulfil Divi web design needs of all kinds.
15 Homepages
42 Landing Pages
125 WooCommerce Pages
And Many More…
Frequently Asked Questions
What is Divi Layouts Extended?
Divi Layouts Extended is a fantastic plugin that will provide you access to amazing pre-built Divi templates via a one-click import feature. It has more than 1700 prebuilt layouts, including headers, footers, hero sections, blogs, contact forms, and more, to make every part of your website beautiful and eye-catching. It also offers you beautiful pre-built pages that can be added to your website's landing page, shop page, product page, and many other places.
How do I download/import the layouts?
Divi Layouts Extended is a plugin. Therefore, there's no need to manually import the layouts. However, to use the layouts, first, you need to install the plugin, then from the plugin's layout library, download the layouts you like. Then, use them in the Divi Builder.
What will I get when I purchase Divi Layouts Extended?
The Divi Layouts Extended is an extensive plugin that entitles you to currently available different layouts, such as blog, header, footer, hero sections, testimonials, team sections, countdown timer, blurb, FAQ sections, number counters, pricing table, CTA layouts, contact form and everything we'll release in the future. This simply means you'll get more now with Divi Layouts Extended as well as more in the future.
Do I need Divi Theme to use this plugin?
Yes, as Divi Layouts Extended is built on and for Divi theme, you need to have Divi theme installed and activated on your site.
Can I use another theme other than Divi?
No, you can't. To use Divi Layouts Extended, you need a Licensed Divi theme developed by Elegant Themes.
Do I need a Divi child theme to use Divi Layouts Extended?
No, you don't have to. However, if you're using a child theme, you can use the plugin to enhance the theme's look and feel.
Can I only use one layout at a single time?
Not necessarily you can combine the layouts as you may. For instance, you can use both Testimonials and team sections on a single page if your design needs it.
Use the layouts as your requirement without overwhelming the structure. That's our suggestion.
Can I deactivate or uninstall Divi Layouts Extended after completing my website?
No, you can't. The layouts you'll use are only available because you have the plugin installed and activated on the site. Therefore, deactivating and uninstalling won't help.